on
March 10, 2014
at
3:37 PM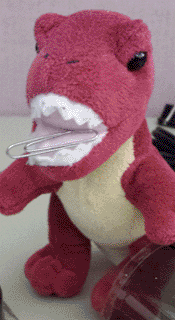 There are times when we all could use a little ha-ha to pick us up. Like, f'rinstance, when your water heater decides to die right when your kid is telling you how much he likes hot baths, and your spouse informs you they absolutely need a shower before they go to work the next day. Laugh along with these links while I thank the Powers What Is that I had access to lots of large pots and an electric stove:
• The fearsome creature to the left is a stowaway T-Rex plushie that went to work with its owner's dad and had a rather full day.
• Here's a blog of tales from behind a concierge desk at a hotel on Times Square (so beware of some salty language, if that's a concern) that'll probably consume your afternoon: How May We Hate You will likely make you feel better about your own job, unless you're also a concierge.
• The real question is, why aren't all cows washed and then blow-dried?
• If you're my sister, send your eldest daughter out of the room before you look at this Minecraft-themed birthday party or you'll be replicating it, eventually.
• Finally, is this a bulldog trait we didn't know about? As Eddie Izzard once commented, perhaps tigers are good with banjos and we've just never thrown one at them.