on
May 29, 2016
at
12:58 AM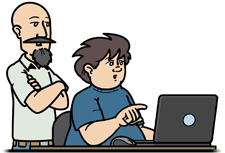 Warning: The following concerns the existence of naughty bits and the magical alteration thereof… kinda.
Frank sat down behind his DM's screen and looked more upset than usual. "Thanks to you guys, I had to change out all of my social network accounts and switch to a new ISP."
Shawn's webcam speakers came alive. "It was time you moved on from AOL anyway."
Nelson idly spun a d20 on one corner. "How did we do that? I'm only asking because if it's something we can do to someone on purpose, that's like a superpower."
Lewis stopped doodling stick-figure barbarian women in chainmail bikinis on his character sheet. "Was it the Facebook thing we posted about the Freudian undertones in the Sea-Maidens of Starbright Keep campaign you ran?"
"No, it wasn't—" Frank's eyebrows went up. "Wait, when did you post that?"
"It was a while back." Lewis shrugged. "It got a decent amount of likes, but I was kinda disappointed it didn't go viral."
"This is how your characters always seem to be cursed by the gods, dude," said Shawn.
"Says the guy stuck in a part of Alaska with more elk than people."
"Anyone who wants to strangle me over the gaming table's going to have to work for it. You? Not so much."
Frank slapped down a hand, making the nearby dice jump. "No, that wasn't it. It was your recent… business proposal."
His players looked at each other, in what Frank took to be genuine confusion or some pretty decent feigned ignorance.
He sighed. "The Girdle? The one you wanted to use to make money?"
"Ohhhhh," they all said in unison, "that."
↓ Read the rest of this entry…