on
January 13, 2017
at
1:24 PM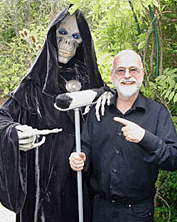 Before my home is entombed in frozen water, let's look at what noteworthy things have been posted around the ol' interwebzonespace:
• Sir Terry Pratchett, author of the Discworld novels, will have his life's story be the subject of a BBC documentary.
• Mark Hamill is reading Trump tweets in the voice of the Joker. If "reading X as the Joker" became Hamill's career for the rest of time, I'd be very happy. I'd love it if he'd re-dub every Star Wars film with his Joker-voice, to be honest.
• As I mentioned in Full Frontal Nerdity, DC is rebooting the Green Lantern movie franchise with a John Stewart/Hal Jordan buddy-cop movie.
• From the "no longer in mint condition" file comes several security cameras' worth of an SUV crashing through a comic book store in Huntsville, Alabama.
• Prepare to be horrified, fascinated, or both as you look at animals without their feathers or fur. It starts with a naked owl and gets weirder from there.
• In my ongoing efforts to remain "hip to what the kids are doing," here's a handy list of memes from 2016, broken down by category.
• We have a list of the greatest Spirographs in the world, which is a handy primer for Inspirograph, an online Spirograph toy! I may have to stick a few images from that on a virtual refrigerator somewhere.