on
September 2, 2014
at
9:15 AM
A local grocery store had a shopping cart of $1 t-shirts in sizes my son wears, and I grabbed a handful over the weekend. They were plain shirts, which is already somewhat of an anathema to Josh when garments featuring Batman or monster trucks can be had. He's a budding Transformers fan, so I downloaded a stencil off of the internet, cut the relevant holes in a bit of TyVek I had lying around, and we spray-painted the symbol of our chosen side in the war for Cybertron: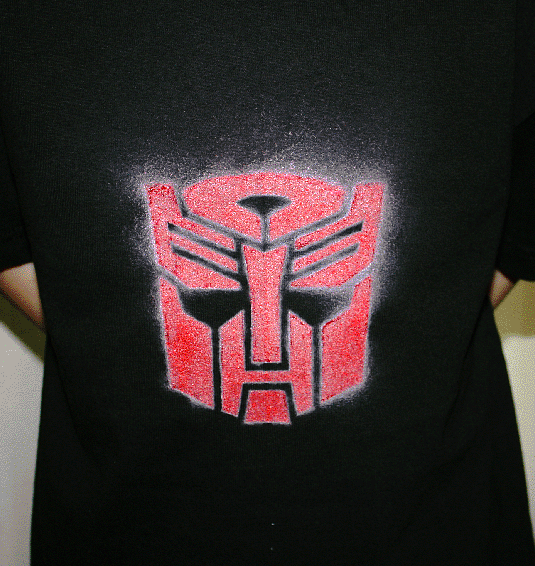 Pretty cool, but nothing most people haven't seen or tried before. I've done designs with fabric paints, spray paints, airbrush, etc. and nothing ever seems to stick, especially to dark-colored shirts. This time, I tried something different. These are the materials I used: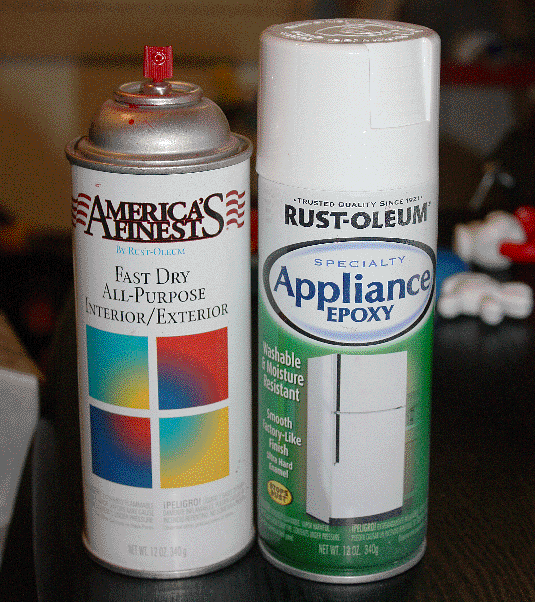 The red paint on the left is a hardware store generic spray enamel. The stuff on the right, however, is what I think made this project turn out the way it did. It's Rust-Oleum Appliance Epoxy. I had good luck using it on the bottom of a cabinet that sees lots of pots and pans scraping across its surface, and it's held up quite well for the past year or so. Naturally I thought this would make a great addition to textile enhancement.
The way I applied the paints may or may not have helped the pigment to stay, but I'll share my technique anyway and leave it up to other researchers to fine-tune the details. After using some spray-adhesive to hold the stencil to the shirt, I did several coats of paint. Each coat consisted of the appliance epoxy followed immediately by the red enamel. I was trying to mix them on the shirt as I went, basically. I figured that if it started to wear off, it'd at least remain red-ish as it went. The first few coats weren't that opaque, and I thought the cloth would overwhelm the cover, but about three coats in (letting coat-mixing dry to the touch in the sun), the design didn't look like it was being sucked up by the cotton. When I thought it looked pretty decent, I let it dry for the final time, took off the stencil, and then let it air-dry for another twelve hours. Finally, I tossed it inside-out in the dryer to kind of heat-set it. Josh wore it for a day, then I washed it so he could show it off at school. After a normal wash in a high-efficiency clothes washer set to cold, here's what it looked like: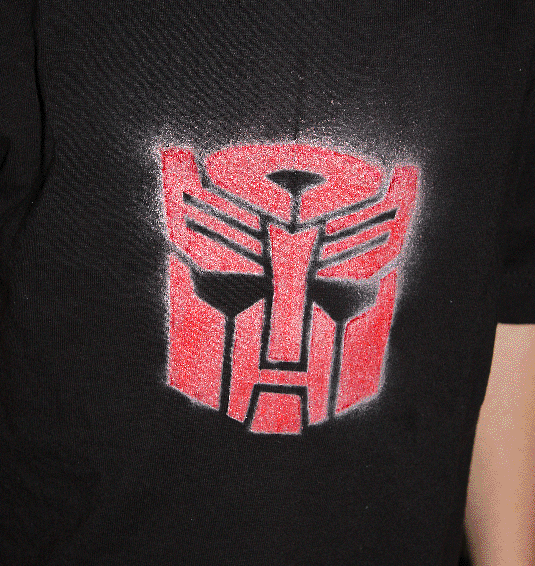 It came out pretty much the same! Mind you this is just one washing, and the fabric feels about as stiff as a fresh screen print, but it already held up better than anything I've done on black fabric in the past. I don't know what the long-term wear will be like, but I figure Optimus Prime will give Josh a metal breastplate or something before this t-shirt wears out.